Last Updated on March 30, 2022 by Jack Sanders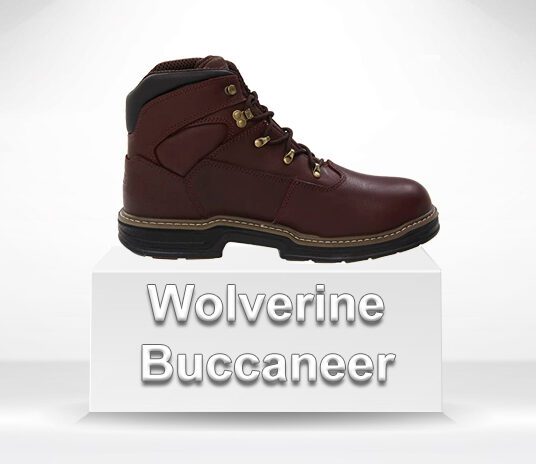 Our Verdict
This work boot is, by far, one of the best Wolverine work boots ever manufactured.
With solid protective features, the boots give workers the confidence that they won't suffer nasty injuries.
Regarding their comfort, their amazing midsoles and footbeds make the experience of using the boots something really enjoyable.
Durability-wise, the boots are manufactured with top-quality materials which give workers the confidence they won't end up regretting their purchase.
Pros
Waterproofing membrane keeps feet dry when exposed to exterior liquids
Full-cushion insoles
Slip-resistant rubber outsoles provide perfect traction on slippery surfaces
Wave mesh lining maintains feet fresh during humid days
Lightweight PU midsoles offer great shock absorption when walking on hard surfaces
Work Boot Info
Brand:
Wolverine
Model:
Buccaneer
Leather:
Waterproof full-grain leather
Footbeds:
Full-cushion insole
Outsoles:
Slip-resistant rubber lug outsole
Midsoles:
Lightweight PU midsole
Who Is It For
If you are a worker that's obsessed with comfort who also wants to be protected at the worksite, then these Wolverine Buccaneer work boots might be the best option for you.
Wolverine Buccaneer Review
Overview
Everyone raves about these Wolverine Buccaneer work boots, which is why I decided to grab a pair and test them at the construction site where I work and write a full review.
In a price range sitting between $100 to $180 (depending on size and availability) these Wolverine boots are one of the most comfortable and protective work boots I've ever tested. I mean, it was crazy to walk around the construction site knowing that my feet were completely protected and feeling very cozy at the same time.
Due to their perfect combination of features, these Wolverine Buccaneer work boots have been selected as perfect safety footwear choices for:
Outsoles
Do they come with slip-resistant outsoles? YES. These Wolverine Buccaneer come with rubber slip-resistant outsoles that bring peace of mind to all workers.
The outsoles are made of rubber. Rubber is a substance both nice to the touch and very grippy in itself. Both of these properties make it to be the perfect base material for work boots' outsoles.
On top of that, the outsoles have solid slip-resistant qualities thanks to their deep lugs that dig into the floor to provide the maximum traction possible .
This allows workers to walk on slippery surfaces without the fear that they will slip and fall at any moment which could lead to serious injuries.
In 2018, close to 30% of the nonfatal work injuries in the US were related to slips, trips, and falls. This goes to show how important outsoles are in a pair of work boots and how good of a choice would be to get these Wolverine Buccaneer work boots if you want to avoid these types of injuries.
Uppers
What got me worried about these Wolverine Buccaneer work boots was the uppers.
Are they protective? Would the leather keep my feet dry when exposed to liquids?
What we have here with these uppers is a waterproof full-grain leather that isn't only very protective but malleable enough to adapt to the shape of the feet maximizing its comfort attributes.
The full-grain leather uppers represent a solid choice from Wolverine as this type of leather is known for its strength and durability
. In fact, with the pass of time, the leather develops a "patina" which gives the leather a new color and protects it from exterior elements.
The uppers are also waterproof.
Leather is naturally porous, which means it's not waterproof as liquids can filter through. However, these Wolverine Buccaneer work boots are manufactured with leather that's been processed to close these pores, making them waterproof . This treatment offers a sort of barrier against liquids that get in contact with the boots (i.e. when accidentally stepping into a puddle of water in the ground). This, of course, keeps the feet dry at all times which is a big advantage for workers that work outdoors.
The thing with waterproofing is that, sometimes, it's a bit problematic as to how breathable the work boots are. Luckily, these Wolverine Buccaneer work boots come with a Wave mesh lining responsible for letting the air flow freely through the inside of the boots which is essential to maintain the feet cool and fresh during hot and humid summer days.
Safety Toe Caps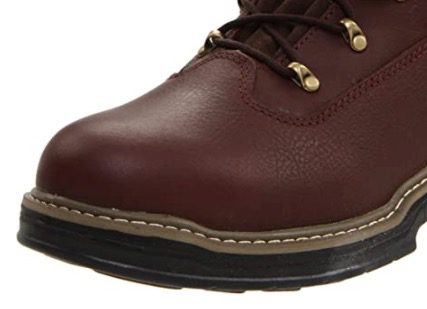 According to this article, "60,000-foot injuries are responsible for keeping people from work every year" and the objects that cause these foot injuries "weigh 30 pounds or less". In other words, workers are used to getting their toes squashed by falling heavy tools.
So, if you're worried about safety where you work, then you're definitely going to love these Wolverine Buccaneer work boots as they come with steel safety toe caps.
Steel toe caps are responsible for covering the toes with shaped-metal barriers. These caps resist heavy drop forces coming from tools falling, nail-gun punctures, or even power-saw cuts. Due to this, many worksites demand their workers to use steel toe work boots such as these Wolverine Buccaneers boots.
Thus, thanks to these Wolverine boots, workers can now work with the peace of mind of knowing their toes won't be crushed any time soon.
Footbeds & Midsoles
Unlike many other brands, the engineers and designers at Wolverine decided to create these Buccaneer work boots not with protection, but mainly with comfort in mind.
To do this, they added removable full-cushion insoles to these Wolverine Buccaneer work boots.
What this feature does is deflecting the load of the bodyweight as the foot lands on the surface and then return the footbed shape to its original state . That's what most people call "cushioning" and it's essential to provide a very cozy user experience when using the boots.
Then, the PU midsoles are responsible for tacking on and dissipating the shocks that come from walking on hard surfaces all day (which, sadly, is what most workers do nowadays). This avoids putting stress on the feet and knees which is essential to prevent long term issues (i.e. plantar fasciitis or sore feet)
Construction
The construction is a key part of a safety boot. With a lousy construction, even the most expensive work boots are surely going to break apart after a few months of heavy use.
Luckily, these Wolverine Buccaneer work boots come manufactured with a Wolverine Contour Welt construction that is innovative in how durable and comfortable it is.
This construction method is engineered to add years of durability to the boots while adding flexibility to key parts which are essential to provide a much better user experience for workers dealing with the toughest jobs (i.e. construction workers).
Electrical Hazard Resistance
Another feature that I loved about these Wolverine Buccaneer work boots is their electrical hazard resistance.
This might sound a bit too much for some workers, but electrical-related injuries are very common in America. Due to this, I believe that getting work boots with electrical hazard resistance is a nice way to have the guarantee you're going to be 100% protected from these nasty accidents.