Last Updated on March 30, 2022 by Jack Sanders
Finding the best work boots for summer or winter, or the best for carpenters, electricians, and so on tends to stand as secondary when it comes to fashion choices.
In that context, lots of people like to dress well and a lot of attention is given to dressing outfits. This is where the question of how to wear work boots with jeans comes up as there are thousands of options.
After extensive research, I built this article that goes about the best way to wear work boots with jeans. I hope it helps.
How to Wear Ankle Work Boots With Jeans
Ankle work boots are boots known for their shafts that reach the ankle or stay just above it. They are by far the most versatile choice of work boots meaning they can go with any type of jeans without giving it much tought.
If you asked me, they can be dressed up for a casual look with any jean (of any colour) and a plain t-shirt and a jacket. They can also be combined with dark slim fit jeans and a shirt more a more "smart casual" look.
Irish Setter Wingshooter
To give you some choices, I believe the Irish Setter Wingshooter to be one of the best ankle work boots to use with jeans as they aren't only very stylish but also protective and comfortable, which is perfect for a tradesman.
How to Wear Lace Up Work Boots With Jeans
By far the most popular choice to wear with jeans, lace-up work boots stand as one of the easiest types of work boots to wear with denim.
These work boots not only provide excellent comfort and durability but also allow users to enjoy a customized fit, thanks to the advantage of having laces.
I'd day you could wear lace-up work boots of any color (black, brown, etc..) with any jeans you might think of, provided both fit well to your body. Pair them up with a t-shirt, or a fitted shirt to give your outfit the last touch, and done, you'll be very well dressed for the occasion!
How to Wear Chelsea Work Boots With Jeans
Chelsea work boots go well with jeans to achieve a casual and a formal look too.
In fact, if you want to look cool and well dressed at the same time I'd say mixing Chelsea work boots with a plain t-shirt and a pair of sunglasses should be more than OK.
On the other hand, a great pair of Chelsea work boots can easily be mixed with jeans and a sweater, and BOOM, you got yourself a formal look. Yeah, it's that easy!
Ariat Spot Hog Western Cowboy Chelsea Work Boots
I believe these Ariat Chelsea work boots are a great option for people that want to mix Chelsea work boots with jeans as they go well for both a casual and a more formal look.
How to Wear Logger Work Boots With Jeans
We already know logger work boots are one of the safest options for work boots around.
But the question is, do they go well with jeans? Hell yeah!
Given their design, they can be paired with regular or fitted jeans to achieve a rugged and manly look. They provide that "cowboy look" a lot of men love.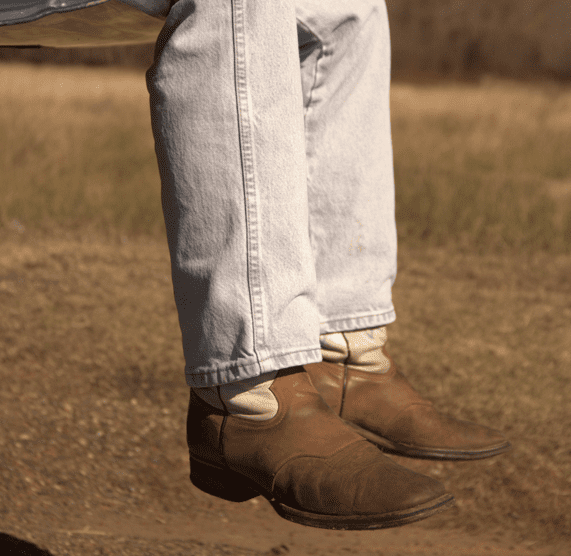 PS: I wouldn't say they go well for a formal look though.
Frequently Asked Questions
These are the most frequent questions that come up after questioning about how to wear work boots with jeans and my effort to answer most of them.
Do jeans go outside of inside the work boots?
I'm more of a jean outside-the-work-boots guy. I mean, it's just how I've been raised.
But I'm also open to the idea that fashion changes and other people might like to tuck their jeans inside their work boots. In fact, there's an advantage to tucking your jeans inside your work boots and that is preventing dirt and debris from getting stuck in the jeans.
What work boot color is best to wear with jeans?
I believe work boots should be of a dark kind of leather to make sure they mix well with any pair of jeans you might want to use.
In that context, dark brown or straight black work boots are great options as they can be paired with any type of denim.